Yarrow — a cross-continental native with local benefits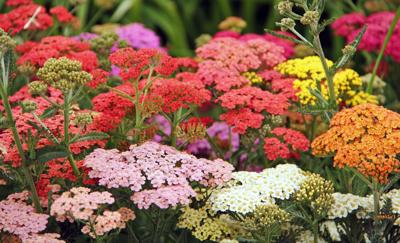 Yarrow, yarrow, yarrow — what can I say about yarrow?
During my research, I found there is quite a bit to say about yarrow, especially folklore, and I will list a few interesting items under Fun Facts.
As you would expect, yarrow — Achillea millefolium — is named after Achilles. This was because he used the plants in treating soldier's wounds during the battle of Troy. The second part of the name, millefolium, means thousands of leaves. This is one of very few plants that are considered native to North America, as well as Eurasia.
Achillea millefolium works as a great native groundcover, as it is adaptable to different soils types, spreads easily, is drought-tolerant and accepts disturbances. As a plus for this area, yarrow is deer-resistant. I love a good groundcover, so I keep adding more yarrow to my beds, as I prefer flowers over mulch. A resilient perennial, yarrow can reach 3 feet tall with tiny, white flowers and remarkably interesting fernlike leaves. The flowers are flat-topped and will bloom from late April to October. The hybrids of yarrow will have different colored flowers, such as red, yellow or pink.
Great in a multiple of garden settings, Achillea millefolium also works well in fresh and dried flower arrangements (and smells good, too). Yarrow is easily divided, so you can share them with fellow gardeners. Deadheading after first bloom will promote reblooming. For those who are looking to shrink their lawn area, Achillea can tolerate light foot traffic and can be mowed (at highest setting) if in a naturalized area.
Yarrow is a butterfly-magnet, so is perfect for butterfly gardens. Achillea also attracts moths, bees and other beneficial insects to the garden, so I would include it in every garden. Some beneficial insects use yarrow for every stage of their lifecycle.
Being partially salt-tolerant, yarrow does well in this area and looks good in a naturalized garden, cottage garden, rock garden, drought tolerant or vegetable garden, as well as an herb garden. Yarrow is used as a medicinal herb even now.
Fun facts:
• Sweden uses yarrow for beer-making and calls it "field hops." In fact, yarrow beer has been brewed in Europe since the Middle Ages.
• The French call it "the carpenter's plant," as it is believed to instantly cure wounds caused by edged tools.
• Native Americans made a tea with yarrow to cure stomach illness, reduce fever, treat rashes, treat spider bites, and cure toothaches, joint pain and earaches.
• The Greeks believed that bathing in yarrow water gave you immortality, because Achilles was dipped in the yarrow-laced waters of the river Styx.
• Lewis and Clark collected yarrow during their journey across the U.S.
Wildlife benefits:
• Since yarrow blooms from April to October, they are a great source of pollen.
• Yarrow attracts many beneficial insects, and their larva eat most garden insect pests, so you don't have to spray pesticides. (As I like to say, "Save the day. Don't spray.")
• Yarrow's dense foliage allow beneficial insects to hide.
• Some birds use yarrow for nesting material, possibly because of its parasite-killing qualities.
• It is a host plant to many types of moths.
• It is great in a vegetable garden, as yarrow attracts beneficial insects that eat the annoying insects that want to eat your veggies.
Companion plants:
Rudbeckia (black-eyed Susan), Echinacea purpurea (purple coneflower), Coreopsis, Asclepias tuberosa (butterfly weed), Heuchera americana (American coral bell), Aquilegia canadensis (columbine), Broccoli, Cabbage, Arugula, Rosemary, Tomatoes, Garlic, Spinach, Blueberries, Thyme, Lavender, Basil, Oregano and Strawberries.
Read the article in the Coastal Point here.